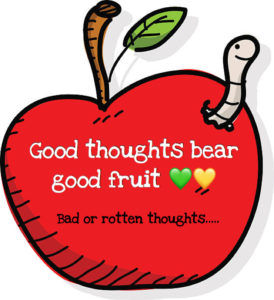 My truth is that I mostly do not have a choice about my first thought, but I do have the choice to indulge it or to redirect my thoughts AWAY from obsession or reactive behavior. I learned this practice late in life. Being commanded to lighten up and get over it drove me more deeply into darkness and shame over my complete lack of knowing how.   It was essential that I do so, if I wanted to belong. I see now, that it could not be modeled. You can't teach someone how to be an entirely different person from whom they are. The message was "Be Different from how you are, dammit".  To this day, I cannot.  And the miracle is- I do not apologize or even feign an intent to be other than how I am.  I strive to be spiritually stronger, and to engage a closer connection to God.  That will allow me to mature into the person I am meant to be.  Conforming to the will of another human won't.  I don't know what makes me a sensitive and expressive empath, picking up on energies around me, while others remain deeply unaffected.  I did not choose it and I cannot un-choose it or judge it.  When having your feelings and truths debated and punished is a pattern, it is time to remove yourself.  Patterns don't lie.
Trusted others possess desire to help others to calm and comfort themselves to a state of peace, because they wish peace and serenity for all.  Non-trusted others will bully others to stop sharing or showing signs of distress, because that is troublesome, demanding, unreasonable.  Extinguish that shit like a good girl now, Umkaaaaaay?   I am grateful for the choices/tools offered to me by my program of recovery.  Below is an excerpt from a book about coping with untreated mental illness in the home and the affects it has on our brains and nervous systems, our own mental health.  Thanks to @wereyouinterruped on IG.  This excerpt speaks directly to how I experienced my childhood home and family life, regardless of whether or not they might actually be diagnosable as BPDs or NPDs.  Their emotional banishing and vanishing is still terrifying, constant eggshells; born out of the requirement to never reveal or acknowledge difficult feelings openly and directly.
"Fear is a constant companion in BP/NP families. The sudden outbursts of anger from the BP/NP, the chilling rejection and shunning, the irrational demands, and the inexplicable reasoning from the NP/BP teach family members to always be on guard, to not count on any future plans, and to watch carefully every action, word, gesture, and even facial expression. This creates a "survival" need to please the BP/NP and a sense that you are responsible for the BP/NP's anger, hurt, and hostility."  You can click anywhere on the quoted excerpt to see more of the book.
I share here because I am now finding the words and the voice to do what is not allowed in my family of origin.  I do it so I may heal, grow, and be of comfort to others who have similar experiences which make them feel terminally unique and unworthy of connection.  I am here, openly reparenting myself, unlearning, together with others.  I am not alone.  And neither are you, if this is your story.  You matter.  Recovery matters.  Without it, I surely would have continued the legacy of this way of living,loving,parenting.  Healing and sharing our stories is wholesome and Badass.  100%.  It is not for everyone.  Thank you for being with me.
Much Love,
Magda Gee
For shorter, more frequent and fun posts, connect with me on Instagram- wholesomebadass https://www.instagram.com/wholesomebadass/