Stay Close to Anything That Makes You Glad to be Alive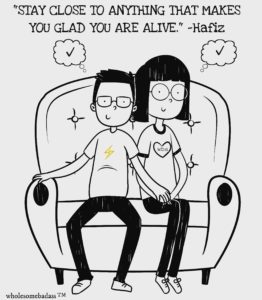 What a novel concept!  Learning to be mindful of the choices I have-  sometimes the menu of options sucks, but as an adult with recovery, I do have choices.  For my weekend with sweet sweet Greg, parting only to go to my sweet Brazilian Jiu Jitsu class, I am immensely pleased and grateful.  All my BJJ fellows and Greg make me very glad to be alive.  Miracles are happening.
What/Who makes you glad to be alive?  What deserves a little space?
Much Love,
Magda Gee
For shorter, more frequent and fun posts, connect with me on Instagram by clicking the pic- Wholesomebadass. https://www.instagram.com/wholesomebadass/