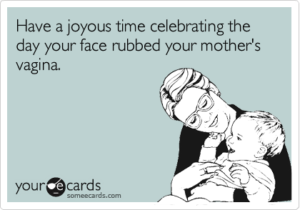 Birthday sentiments to my female sibling who believes that being grossed out by sex is the same as being a lady. And who speaks of being phobed about by lesbians(a-hem) and worries constantly that she looks like one. I found the perfect card for you. Also, Thank you for getting born.  If not for you, and wanting you to love 💖me so badly, I would never have married someone just like you💀🖤And I would not have my two sons.  
So, Thank you.🙏🏼💖👊🏾 And if not for my divorce from him and the lessons that came from trying to do the impossible, I would still be battling you in the ways that affirm you.  I would be screaming still and making things worse by engaging you directly and saying things I no longer will allow myself to say—to anyone.
This is the best I can do today. My grades for wholesome and badass seem to be slipping. 🆘💯 For the record, I repeat, Wholesome Badass is what I work towards…not a claim to anything more.
I definitely did not do any rising above or spiritual elevation with this post. But, it is what it is. I am showing my anger, which my closest friends insist is giving THEM what they want. Hooray for them if that is true.  For today, I needed to be in the ring being assholey with them. Just for today. Thank you for chiming in with comments here and on IG. For making me feel un-erased and un-awful.  Also, I feel compelled to openly and unashamedly express anger…because in my family, everyone claims outrage over things, but no ownership of other feelings which are judged as "non positive/non-easy" feelings, like anger, despair, plain old sadness or hurt feelings-so careful navigation around the eggshells is a requirement.  And– when a person, does openly above board express difficult feelings, they are CALLED OUT, as if defective and then dismissed.  I am claiming my right to have and express feelings…perhaps in non most productive way.  But I feel no shame today.  Yes.  I am angry.  I am sad.  I don't like what they are doing- and how it harms MY family.  I will not pretend otherwise, but I will grow and move in a better direction for myself and my boys.  Watch out, they have feelings too and I am teaching them to name and claim and tame them but not to hide or stay close to those who require that.  For my mother on this glorious day–thank you again for not only giving birth to Jilan Ghoneim but also for "wishing me well".  I really cannot wait to experience that….maybe for my birthday???
My healing is a journey, not an event—WBA
Magda Gee
For shorter, more frequent and fun posts, connect with me on Instagram by clicking the pic- Wholesomebadass. https://www.instagram.com/wholesomebadass/