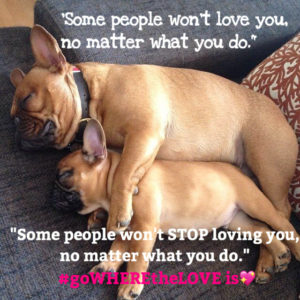 Some people won't love you, no matter what you do. Some people won't STOP loving you, no matter what you do. Go where the love is. Unlearning, reparenting myself, redefining love. Love is kind, present, benevolent, unconditional. We are all human and fail at times and will blow it. When that happens, if we come from a place of love, as recovery has helped me to redefine, we make amends, commit to restoring trust. That is how we do it in the family and friendships of my making. Detaching from the rest has been judged harshly. And that hurts. But not nearly as much as being scapegoated, diminished, systematically and collectively erased. Fuck triangulation and any group that requires participation and submission to non-love. Entanglement is not connection. Blood and passing of time mean nothing. Kindness, healing, and recovery mean everything. I #gowheretheloveis Shared fear and disdain are no longer sustainable sources of connection. Shared trust, safety, compassion, and vulnerability are my criteria for staying or moving away. Fuck pleasing and pretending. It is not wholesome or badass. It is not for me. I am officially immune to fear of criticism and rejection. I have been well and repeatedly inoculated.  Listening to and reading the findings of Brene Brown give me the language and nourishment to stay the course, for myself and for my children.  The type of love my family offers/requires is not one I care to model for them.  It is literally sickening to my soul.  Celebrations and Emergencies change nothing and no longer pose for me, as invites mandates to attend.  I have the courage to stand alone, to rise strong, to Brave the Wilderness.  My life depends on my willingness to be brave and to act with acceptance for the facts.  The life of my boys' mother is too precious.  Speaking up about pain is not THE problem for those interested and invested in healing and connection. AND Gathering around a well set table, decorated tree or even a coffin are proof of nothing. Challenging my right to exist is a line that will not easily be crossed.  I am 100% B.R.A.V.I.N.G. this life.  Are you?  

Boundaries: Boundaries are HUGE. In a nutshell, they help us let the good stuff in and keep the bad stuff out—"stuff" being people, experiences, information, emotional states, and more. This is a meaty topic and something we explore in more depth in the Be Your Own Hero course.

Reliability: Doing what we say we're going to do, when we say we're going to do it. Being aware of our strengths and limitations and acting accordingly.

Accountability: Taking ownership for our behaviour, including making amends when we make mistakes

Vault: This is similar to boundaries but important enough to warrant its own category. In Rising Strong, Brené describes this as not sharing experiences that aren't ours to share. In other words, it's a combination of refraining from gossip, demonstrating empathy for other people, and not getting sucked into drama-driven situations.

Integrity: When our actions match our words and when we practice our values rather than just profess them. In Rising Strong, Brené also includes "choosing courage over comfort."

Non-Judgement: Being able to ask for what we need and talk about how we feel without being judged (and vice versa for other people).

Generosity: Extending the most generous interpretation possible to the intentions, words and actions of others.

How to cultivate self-trust using B.R.A.V.I.N.G  As Brené explains, we can also apply these ingredients to ourselves to get a measure of our self-trust.

Boundaries – Did I respect my own boundaries? Was I clear about what's okay and what's not okay?

Reliability—Was I reliable? Did I do what I said I was going to do?

Accountability—Did I hold myself accountable?

Vault—Did I respect the vault and share accordingly?

Integrity—Did I act from my integrity?

Non-Judgement—Did I ask for what I needed? Was I nonjudgemental about needing help?

Generosity—Was I generous towards myself?"
Braving is beyond wholesome and badass and too much for some.
Much Love,
Magda Gee
For shorter, more frequent and fun posts, connect with me on Instagram- wholesomebadass https://www.instagram.com/wholesomebadass/