Dear Aunt Catherine,
Spending time with you makes us feel bad; bad about you, bad about our mom, our grandmother, your daughters, and bad about our dad. Being in the middle stinks. Upending our family in this way makes you enemy#1–we would have preferred a different experience of you. Required participation in something that causes our mother pain– Being made repeatedly to hug and to sit close, while sternly encouraged by our dad to smile on command also feels awful. We believe that hugs are reserved for people of trust. How can we trust someone who does this to our mother, OUR family? We are just children. Why would you bring us into this? Do you have any idea how much pain you bring to everyone but you and our dad?
Also, we find your behavior towards him embarrassing. We get it. You like him and want him to like you back. He probably enjoys spending time with you because you have expensive things and guns AND it mostly, it feels like another win for him in divorce. He still enjoys winning, over our mom. We don't want him to win or make her lose…we want them to work together as our parents. We deserve cohesive co-parents. Right? Your behavior suggests to us that we do not.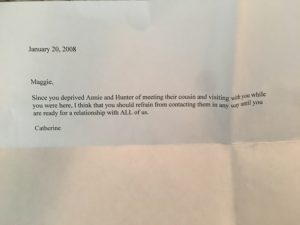 Your relationship with our dad adds tension between our mother and father and escalates their difficulty to co-parent us as a team. They are divorced. It is hard enough! You didn't even know our dad before our parents awful divorce and our move here. Developing a relationship with him while not speaking to our mom makes no good sense. It can be explained as nothing wholesome at all. Purely divisive and hostile, very damaging to our parents as a unit.
Betrayal. He likes to spend time with you, because he does not know anyone here in Charlotte and you are the only woman consistently fawning over him. Maybe if you left him alone, he would meet someone. With your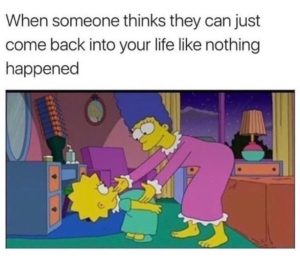 daughters, we can not feel close to them because our energy goes entirely into pretending that we are behaving as normal and loving. And why must we, talk to you– but your daughters not to our mom? It all seems very intentionally mean-spirited- spiteful. Bullyish. We are reprimanded when we don't smile and act happy FOR you, so we do our best to please our dad which means performing for you…then we go home feeling crummy about it– to a mother who tries and mostly fails to accept what is happening. All she would like is to be able to parent us with our dad without added stress.
Your mom is yours. You belong to each other. We get it. Go Be family. Enjoy.
You possibly think you are creating closeness for us with you and our grandmother. Maybe you honestly cannot see how it is not possible for us– to feel love and connection with people who divide our tiny family further and whom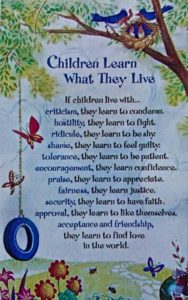 don't mind alienating and wrecking our mom. Her greatest fear is that we will grow up believing that it is ok for brothers/siblings/family to do things of this nature—to anyone.
Make things right with our mother or let US be. Any connection to our dad's family is totally inappropriate. Our mother deserves peace. Anyone thinking otherwise, is not genuinely interested in loving US. Please. Just stop. Just because you can do a thing, does not mean you should do it.
You can do better. We cannot. We don't get a choice. You are hurting us. Respect us enough to STOP.
FROM: Our mother's sons
Much Love,
Magda Gee
For shorter, more frequent and fun posts, connect with me on Instagram- wholesomebadass https://www.instagram.com/wholesomebadass/