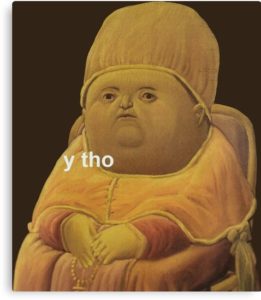 I have never, not ever, not once in 50 years had a moment of resolution with my mother or sister in which each of the people own their contributions to the situation.  All initiatives by me are handled one of three ways:  1-No response.  2- A response that does not acknowledge what I have said but offers me the standing invitation to come pretend everything is ok–to put it all behind us.  Because the only real transgressions are open expressions of feeling or conflict.  It is more acceptable to be openly hurtful than to openly express being hurt.  And finally, my favorite of all(especially when many are copied) 3-Character assassination.  I am certain they agree that if I were less shitty, they wouldn't HAVE to do that.  I cannot take responsibility for the words and actions of others.  Program teaches me what is and is not mine.
It will be interesting to see if this attempt will be any different.  My older son is so distraught by escalated tension between his father and me, by the triangulation of him with my family–and the reality that for as long as it remains like this, my children can not count on a healed family holiday, seated at a table with both of their parents.  I feel I must try something.  Also, we did not trek our entire lives cross country so that my mother could go to her grave with this bullshit hanging between us.
Here it is↓:
—– Forwarded Message —–
From:  <>
To:  <>
Sent: Tuesday, December 4, 2018 12:27 PM
Subject: Holiday Healing

Hi Mom,
Will there come a day when we will each willingly reflect on our own behaviors and commit to something better?
Healing is amazing.  Why not?? Right?  The clock is ticking.  Loudly.
The current arrangement is damaging my boys for obvious reasons– adding divisive tension between their father and me.  Perhaps you had not considered that.
I have spent most of my life suffering our dynamic.  But, now it is too painful to witness its affects on our children when we, their parents, cannot collaborate effectively or in peace, because of this added and un-necessary divisiveness.  R cannot do better.  But…
I must believe a mother and sister can do better than a scorned ex-husband.
Much Love,
Magda Gee
For shorter, more frequent and fun posts, connect with me on Instagram- wholesomebadass https://www.instagram.com/wholesomebadass/