The language of this  article feels so intense and psychotic, because this is intense and psychotic…and it is 100% my experience with my sister.  There is no answer or solution other than No Contact.  Sadly my 84 year old mother with cancer is her willing and enabling hostage.  Unless I submit to this, she will not see or speak to me.  I wonder what that is called, besides "your mom doesn't want you-you got screwed".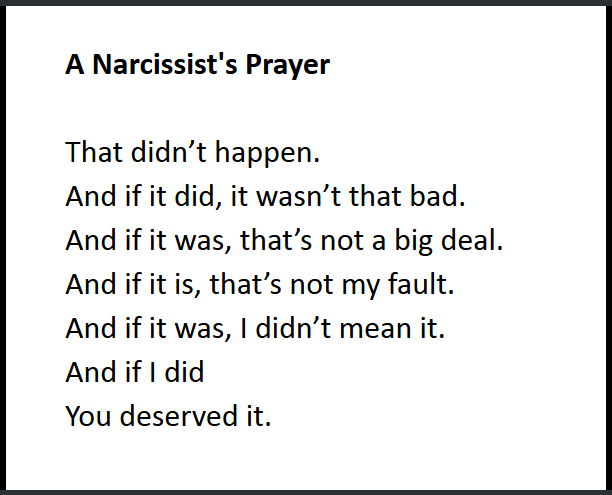 Click here to read the full article.  I just skimmed and read the 20 bold bulleted behaviors.  Apparently, while this is shocking, it is not uncommon.  Behavior #s 1,2,3,5,9,…Ok, well pretty much all of them are part of our story.
Sensitive ones, BEWARE of these behaviors!  They will make you feel crazy and sad and unworthy.  You are not.  You do not cause or imagine the insanity of this dynamic and you cannot cure it.  No Contact is the only real solution.  And they will fight you on that.  Aligning with my ex is the perfect affirmation of what I have known all along about my sister, who is terrified that as an adult in recovery who knows what only I know of her, that she must do this.  She cannot trust me more than she trusts herself.
I will pray for compassion for her–from a safe distance.  I give thanks for enough recovery and self-love to allow myself to continue healing.  My engagement stops here.  What is most upsetting is the toll on the innocence of my young sons as they are forced to navigate her antics as she circumvents me by foreign unwholesome alliance with my Ex.  She righteously breaks all girl code with this arrangement.
Much Love,
Magda Gee
For shorter, more frequent and fun posts, connect with me on Instagram- wholesomebadass https://www.instagram.com/wholesomebadass/